Comparative Analysis of Marine Ecosystem Organization (CAMEO)



PROGRAM UPDATE:

The CAMEO Final Report 2012 describes the goals and the science priorities of the Comparative Analysis of Marine Ecosystem Organization (CAMEO) research program that is designed to provide the information needed to better implement ecosystem-based management of marine ecosystems. Funding for CAMEO began in 2009 and under two solicitations has supported 15 collaborative projects among 50 academic investigators at 25 different institutions and 21 NOAA investigators at 10 different NOAA laboratories.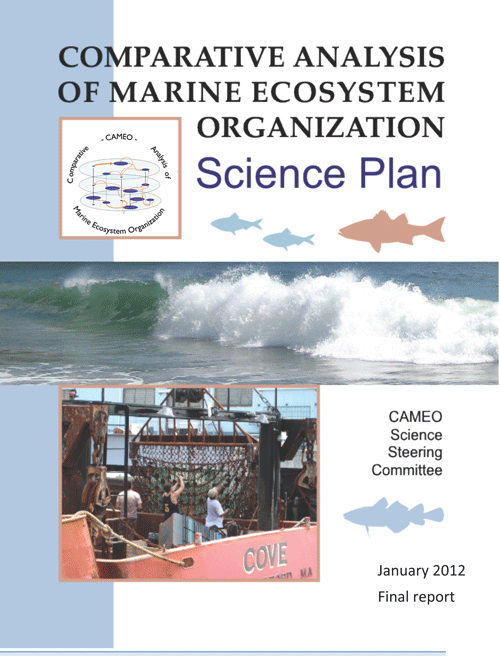 Overview
The purpose of the Comparative Analysis of Marine Ecosystem Organization (CAMEO) program is to strengthen the scientific basis for an ecosystem approach to the stewardship of our ocean and coastal living marine resources. The program, a partnership between the National Oceanic and Atmospheric Administration (NOAA) National Marine Fisheries Service and National Science Foundation (NSF) Division of Ocean Sciences, supports fundamental research to understand complex dynamics controlling ecosystem structure, productivity, behavior, resilience, and population connectivity, as well as effects of climate variability and anthropogenic pressures on living marine resources and critical habitats. CAMEO encourages the development of multiple approaches, such as ecosystem models and comparative analyses of managed and unmanaged areas (e.g., marine protected areas) that can ultimately form a basis for forecasting and decision support. Central to the program is the emphasis on collaborations between academic and private researchers and federal agency scientists with mission responsibilities to inform ecosystem management activities.

Background

The report of the U.S. Commission on Ocean Policy stressed the importance of investments in ocean research to meet the ocean related challenges facing the Nation. In response, the 2007 report, Charting the Course for Ocean Science in the United States for the Next Decade: An Ocean Research Priorities Plan and Implementation Strategy (referred to as the Ocean Research Priorities Plan or ORPP), was prepared by the Joint Subcommittee on Ocean Science and Technology of the National Science and Technology Council of the White House Office of Science and Technology Policy. The ORPP identified "Comparative Analysis of Marine Ecosystem Organization" (CAMEO) as a near term priority to address two of its societal themes: (1) Improving Ecosystem Health and (2) Stewardship of Natural and Cultural Ocean Resources. Specifically, "management of marine ecosystems can be improved by elucidating the underlying dynamics of these systems at a variety of scales. This effort will provide a greater basic understanding of ecosystem processes and practical tools for evaluating the effectiveness of local and regional adaptive ecosystem-based management efforts."


Grand Strategy

Program Office: The CAMEO program office and scientific steering committee were established to oversee the program, guide preparation of a "grand strategy" for comparative analyses, and synthesize program results across projects. To guide these program priorities, a director and scientific steering committee were named. The scientific steering committee provides scientific advice and broad direction to NOAA and NSF regarding the CAMEO program. The committee has developed a science plan and will also assist in outreach activities to support the development of CAMEO. Responsibilities will include assisting in establishing plans, assessing progress, and reviewing program priorities on a continuing basis.


Director: Linda Deegan, senior scientist at the Ecosystems Center of the Marine Biological Laboratory (MBL) in Woods Hole, serves as Director of CAMEO Science Program Office, which is based at the MBL Ecosystems Center. The initial appointments to the Science Steering Committee were developed through Dr. Linda Deegan in consultation with NSF and NOAA.


Science Steering Committee: Committee members are Bonnie McCay, Rutgers University; Don DeAngelis, University of Miami; Ed Houde, University of Maryland; Emanuele (Manu) Di Lorenzo, Georgia Tech; Jeff Polovina, NOAA Pacific Islands Fisheries Science Center; John Steele, Woods Hole Oceanographic Institution; Kendra Daly, University of South Florida; Marissa Baskett, University of California at Davis; Mark Carr, University of California at Santa Cruz; Mary Ruckelshaus, NOAA Northwest Fisheries Science Center; Michael Fogarty, NOAA Northeast Fisheries Science Center; Tim Essington, University of Washington.

Further Information
For detailed information on funded projects please see: http://cameo.noaa.gov

For further information, contact:
Linda Deegan, CAMEO Science Director, 508-289-7487 MBL CAMEO@mbl.edu
Michael Ford, CAMEO Program Manager, 301-713-2239 NOAA/NMFS Michael.Ford@noaa.gov